Date: August 2015

Route: ORD-FRA-HND-FRA-ORD

Aircraft: B747-8I

Configuration: 4 Class International

Seat(s): 1A/1A/1A/2K

On Time: Yes

Reward Flying Experience: : 7.8 of 10 ✈
Reward Availability:
Rare
✔︎A bit of luck
Often

Lufthansa (LH) releases First Class reward space 14 days prior to departure, which is the only downside to the experience and resulting in a rating of 4 instead of 5 planes. Many routes have consistent availability, especially mid week. However some routes rarely have reward space, i.e. SIN-FRA. Of course the issue is planning. Unless you can take a trip on short notice, the best way to deal with a 2 week window is to book a different class/carrier to the destination. Then when, and if, the FC space opens, grab it and pay the change fee if any
Reward Availability: 6 of 10 ✈
Value for Reward per redemption point:
✔︎Sky High: >.08
Great: 0.04-.08
Deal: .02-04
Poor: <.02

Lufthansa FC is a very expensive product. For most of us, reward redemption is the only way to ever fly it. The HND-FRA route retails at around $16,000. To HND the cabin was full, returning it was just me.
Cabin:
✔︎Gorgeous
Attractive
What were they thinking?

First Class has 8 seats on the lower deck. Each seat has an ottoman and a storage locker that wouldn't fit my carry-on. I'm guessing the locker is about 14x32. It has a hanger and is deep, just not wide. Typical 747 layout with 1-1 on the windows and a row of 2 seats in the middle behind the serving counter. Lufthansa has 1 of these rows. Cabin was ultra clean (until I spilled a glass of wine) as were the lavatories. The two lavatories for First Class were good size but not huge. Given I was the only one in First Class on two of my flights, waiting was not an issue!
Seat Comfort:
✔︎Just like home
Comfy
Get me off this plane

You could sit in these seats for days. The seats are wide with good support. The foot rest is an ottoman which is controlled by the seat electronics. They are so big you have a shoulder strap that must be worn on take-off and landing. And notice the amount of leg room this seat provides. You can't reach the ottoman with your belt fastened.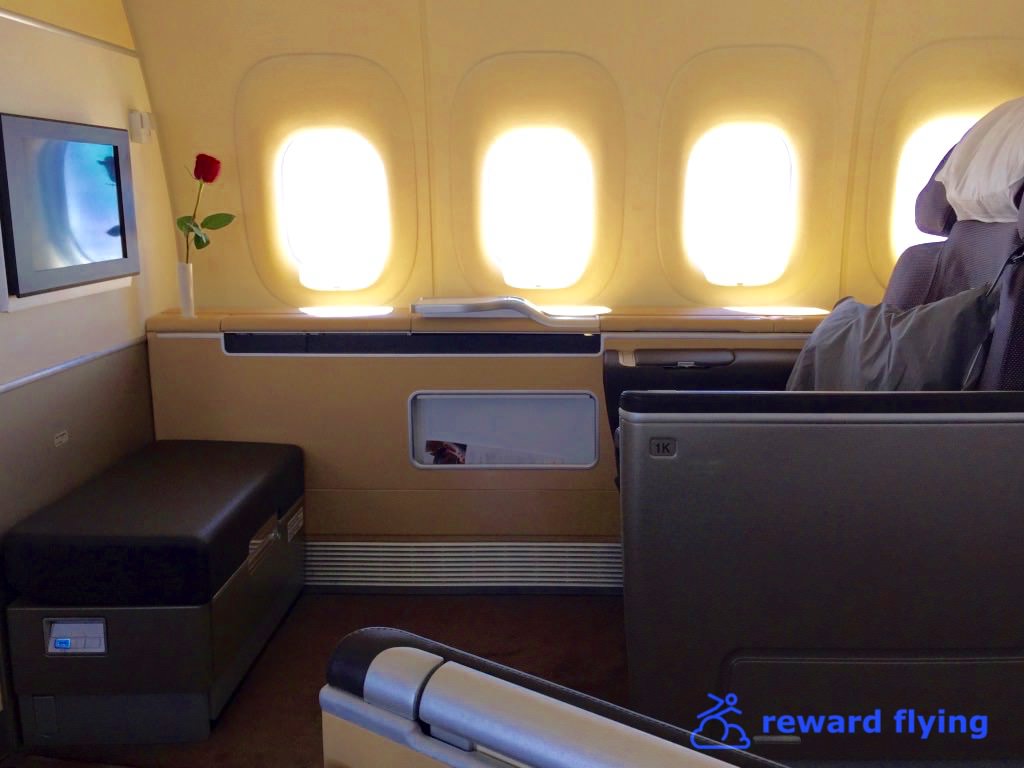 Sleep Comfort:
Like a Rock
✔︎Restless
Counting sheep.

It might just be me on planes but I didn't find the bed very comfortable. The bedding was nice, the pillows small, but the mattress pad didn't seem to offer much comfort from the sturdiness of the seat. While the FC cabin is open, each seat has a privacy screen which encloses the sleeping area. With this screen extended the seat/bed becomes very private and the bed itself is quite large. So my issue was simply with comfort.
Hard Product (Cabin/Seats): 7 of 10 ✈
Amenities:
✔︎Pajama's
Typical stuff
Why bother?

Pajamas along with a toiletry kit and some really uncomfortable slippers. The kit included a comb/brush, toothbrush/paste, socks, ear plugs, eye mask and some creams. Interestingly no mouthwash which was available in the lavatory. But the pajamas are worth the price of admission, they're made by VanLaack. I wear them everyday!
Drink Selections:
✔︎Champagne
✔︎Wine Menu
Full bar in cabin
✔︎Aperitifs
Multiple coffee selections
Multiple tea selections

Of course they have champagne, but not being a big fan I did not get the brand. The fresh macadamias were excellent as you can tell from the empty bowl in this photo. The wine selection was good. A total of eight wines were offered. I enjoyed a 2007 Chateau Larmande, Saint-Emilion Grand Cru Classe, multiple times.
Food menus, selections and extras:
✔︎Printed, multiple cuisines
Printed, single cuisine
Verbal by flight attendant
Special meals
Order prior
✔︎Mid flight snacks

Amuse Bouche, caviar, multiple appetizers brought on trays to select, main course consisting of one international menu with 2-3 items to select from and on the Japan route an additional 2-3 Japanese choices, cheese and desert. Chocolate and mid flight snacks. Breakfast had 2 choices as well. I'm sure you can pre-order special meals however I did not look into this.
Meals:
Presentation:
✔︎Fine dining
Nice try
Aluminum trays

Food Quality:
Compliments to the Chef
✔︎Fine dining with a miss or two
No rave reviews
Get me a meal from economy

Presentations were made with great care. The food for the most part was very good, especially the freshly scrambled eggs with crispy bacon, and I don't even like bacon. The Japanese offerings were exceptionally good as well, presented in traditional multi-small serve tastings. It was the Western meat dishes that were just ok. The European style muesli was particularly good.
Soft Product (Amenities/Food/Drinks): 8 of 10 ✈
IFE:
Can I stay and watch some more?
Watched a fav and went to sleep
✔︎400 cable channels and nothing to watch
Glad I brought my tablet

The equipment was fine with the typical German hard to navigate functionality (at least from my experiences using German technology in their cars.). Bose headphones are hardwired in a compartment next to the seat. Video controller is in the armrest. It's the content and Airshow that were disappointing. Very few movies. Airshow that essential showed a picture of the plane over terrain that had very few land markings and little in the way of flight information. Much of it was in German.
InFlight Entertainment: 5 of 10 ✈
Flight Attendants:
✔︎Made the flight special
Did their job
Did they board?

I wrote Lufthansa to complement my flight crews. They were attentive without being intrusive along with being friendly and polite. The Purser visited after take off and before arrival. Excellent crews on all 4 flights.
Aircraft.
✔︎Didn't realize was on a plane
As expected
Time for a trade-in

These were all Boeing 747-8i series. Tail numbers were ABYT, ABYH, ABYM and ABYM. ABYT was 4 months old and the others less than 2 years old. ABYT was painted in their Retro Livery. The quietest plane I have ever been on (787 included). A departure video is posted below, hear for yourself. Also the smoothest aircraft I ever been on. Very little turbulence felt and FC is in the nose. I hope this plane catches on with other airlines as it is an incredible airplane.
Mobile App:
Search for Reward tickets
✔︎Book Ticket
✔︎Seat Selection
✔︎Checkin
✔︎Boarding Pass
Recently updated the app appears to be much more functional that back in August 2015 when I used it. Then it was really only useful for checking flight status, checking in and getting electronic boarding passes. Now you can book flights and manage existing flights including changing seats.
Comments:
I was fortunate to have experienced Lufthansa First Class 4 times from ORD-FRA-HND and back. About 20,524 air miles. That along with the Frankfurt lounges made for a once in a lifetime experience. The retail fare for these flights is over $38,000.00. Total cost was 330,000 United points plus some change fees. And with some better planning on my behalf this trip could have only cost 220,000 points. But still I got a 11.5 cent per point redemption value. If you get the opportunity to fly Lufthansa FC do it.
Do you have any Lufthansa experiences you'd like to share? Feel free to leave a comment.